Roark Photography and Art

Roger Roark, Photographer

Judith Roark, Painter and Photographer

Welcome to our web site!

We started our photography and painting business in 2008. In January of 2016, Judith started painting with dry pastels after several years of painting with watercolors and an occasional acrylic. We are excited about the images that we have gathered from our earlier photography adventures and the images, photos and over 80 paintings that we have added since 2008.

We specialize in photographs of landscapes, nature, flowers, plants and animals. We have photos from many regions of the United States, Canada, Wales and Ireland. Judith loves to paint animals (really likes chickens), landscapes, and plants.

We hope that our products will brighten your life and the lives of others.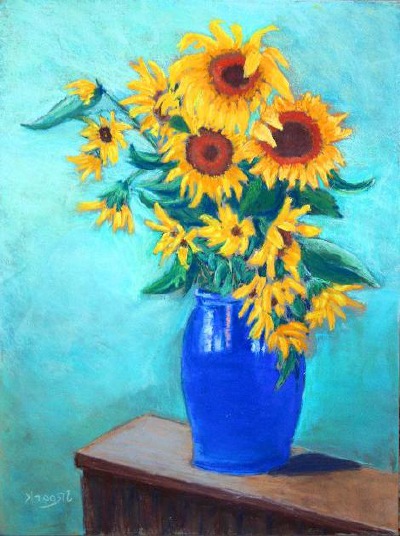 Sunflowers in Blue Vase, Pastel by Judith Roark

Our primary products are blank note cards which are printed on matte card stock and folded so that the image on the card is 1/4 of a letter size sheet of paper. We call these 1/4 cards. All of the images on our site are available in 1/4 note card.

We sell our note cards directly to customers for $2.00 each, tax included. Shipping is $7.15 per order under $100. Shipping for orders $100 or more is free.

Our note cards retail in stores for $3.00 each, plus tax. Click on Retail Outlets for a list of businesses that carry our cards.

Our note cards are wonderful for your personal use and make outstanding, unique gifts.

Special orders are welcome! Prints 8 x 10 or 11 x 14 are available for $10, plus shipping and tax. You can also purchase a digital "negative" for $10 to have it made into a single print by someone else on the media of your choice.

Click on the Orders tab on the left above for more information about placing an order.

We print all of our note cards and photographs.

Note cards are printed on Avery matte card stock on Epson printers using top quality Epson inks. Photographs are printed on an Epson 1900 printer using Epson Ultrachrome Hi-Gloss Ink.

Satisfaction is guaranteed. If you are dissatisfied with any product, we will fully refund your cost, including shipping.